All the available slots for this course has been filled. We will announce about 2019 courses in mid-November 2018.
Highlight:
This program is designed to experience and learn the traditional pottery making process at a pottery studio in the Akazu area, where they follow a particular traditional pottery making process of the Seto region. You will learn to make some tableware using old-established Seto glazes at your own pace. Upon your request, the pottery master can take you to some places around town such as pottery tools store and other places that you may be interested in.
Suitable for:
Intermediate and advanced
Those who would like to make pottery at own pace
Those who would like to use counter-clockwise potter's wheel
Tour price per 1 person (effective until December 31, 2018):
– 167,000 JPY (Room Type A)
– 158,000 JPY (Room Type B)
*500JPY per night as "heating expense" is charged during January, February, March and December in addition to the above price.
The price includes:
– Materials (clay, glazes etc)
– Facility/tools use
– Firing fee for 2 or 3 times *1
– And Free 29 nights of Accommodation *2
Additional Info:
*1 The maximum for the final firing weight is 15 kg / 33 lb. total (this is the weight prior to firing. Please also note that this weight limit is for the total firing and is not for the individual firing).
*2 You will stay on the 2nd floor of the pottery studio.
The price does NOT include:
– Transportation fee to/from the studio, Meals, Packing service, Delivery service, etc.
Pottery facility: Kita-gama Kasen (in Seto city, Aichi prefecture) [Web / Photos / Access]
Minimum participants: 1 person
Length of stay:  minimum 15 days / maximum 60 days
Request for Customizing:
In addition to our standard plan, we can also customize your stay to better fit your needs, such as extending your stay beyond 30 days, or reducing it below 30 days. If you have a particular request, let us know by clicking on the button below.
Tour Start Dat: Any day.Please tell us your preferred start date. [Current availability]
Booking limit: 30 days prior to the tour start date
Payment limit:
– Advance payment of 10% of total tour cost must be deposited within 7 days of receiving a tentative confirmation (Refundable).
– Full payment must be completed 30 days prior to the tour start date.
Payment method we accept: Paypal, Credit Card, Bank transfer, International postal money order
Cancellation fee (Based on Japan time):
– 30 days to 15 days prior to the tour start date: 30% of the tour price
– 14 days to 1 day prior to the tour start date: 50% of the tour price
– Cancellation on the tour start date: 100% of the tour price (No refunds)
About Guidance:
Please note that this program does not include any step-by-step instruction from the pottery master. However, the pottery master will be available to you upon request if you need any assistance or advice. If you are seeking holistic guidance, we recommend you take the 30-day Pottery Making in Seto – With Guidance.
About the Potter's Wheel
Please note that we turn the potter's wheel clockwise in Japan. When you need the pottery master's demonstration and advice, he will use the potter's wheel clockwise.
About firing:
– You will use gas kilns of 90cm x 60cm x 90cm (0.7 cubic meters)  / 45cm x 45cm x 60cm (0.3 cubic meters) or an electric kiln of 40cm x 40cm x 40cm.
– Your works will be fired together with other items when the studio fires the kiln on their regular schedule, therefore you can not specify the firing method (Oxidation or Reduction). Also, please understand that there may be some limitations in terms of sizes and numbers of items to be fired.
– They usually fire once a week, so you will probably get 2 or 3 chances to fire during your stay of 30 days. (The firing frequency depends on the schedule of the studio.)
– Please contact us to inquire about chartering the kiln.
About the accommodation:
The rooms are located on the 2nd floor of the pottery studio. We have two types of rooms for you to select from. Both rooms are Japanese style rooms with tatami mats and futon (Japanese style mattress). Free Wifi available.
Room Types
– Type A: Kitchenette and a bathroom in each room, with a shared washing machine
– Type B: Shared kitchen, fridge, shower room, restroom and washing machine.
About the meals:
You can use the shared kitchen or the kitchenette in your room. The studio owner will tell you where the nearest grocery store is.
English: The pottery owner can speak English, but not as fluently as native speakers.
A Message from the Pottery Owner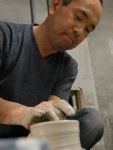 "It requires 3 years to master wedging, and 10 years to master the wheel."
Here in Seto, the phrase has been handed down from generation to generation, to inherit the importance of spending plenty of time to learn.
We believe that it would be a very good experience for you to work with the craftsman.
More Information:


 Current Availability


 Photos of the studio on Flickr


 Testimonials about this program / Testimonials about all the programs in Seto


 Other 30-day Pottery Making Programs in Seto


 All 30-day Pottery Making Programs